San Diego Property Management
Let Us Manage Your San Diego Rental Property

We offer a full range of property management services tailored to you as an investor, homeowner, or landlord.
Why IPA
Income Property Advisors' mission is to offer high quality and efficient property management. Our secret is simple- PRESENCE. We are there for you and your property like it isn't just a rental but a home.
We offer two separate services, our Full-Service Property Management and our Leasing and Tenant Placement Service. Find out more about your options below:
Full Service Property Management- Single Family & Condo
Flat Monthly Fee: 8% of collected rent (minimum $125)
No additional Lease-up fees
No setup fees and no fees during vacancies
Electronic monthly statements, annual statements, and 1099's prepared for owner's accounting
Full brokerage and investment analysis services for owners
Maintenance scheduled and managed with licensed vendors
Leasing and Tenant Placement- Single Family & Condo
Tenant Placement – 50% of 1st month's rent
Collection of all rent and security deposit
Full tenant screening and background check
California-approved tenant lease document
Lease up maintenance if needed to market the property
All marketing and showings handled through our leasing team
Multi-Family Property Management
A management fee of 5% of gross rent.
A leasing fee of $150-$250 per unit (subject to the number of units)
Please contact us for further details
Inquire About Our Services
San Diego Area Information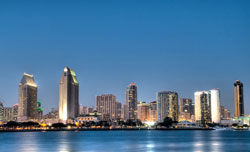 San Diego is the second largest city in California and the eight largest city in the United States. The county's borders are the Pacific Ocean to the west, Camp Pendleton to the North and the Mexican Border to the South. San Diego's mild climate is often considered the best in the country with over 200 days out of the year with temperatures above 70 degrees. It's rejuvenated Downtown offers a waterfront boardwalk area with more than a dozen parks with harbor views.
According to Forbes Magazine, San Diego ranks as the fifth wealthiest city in the United States. Top employers in San Diego are biotech, health-care, government/military and hospitality industries. Over 40% of San Diego residents over the age of 25 holds a bachelor's degree or higher and San Diego has the highest number of PhD's per capita than any other U.S. city, according to the U.S. Census Bureau. This makes San Diego the ninth-most educated city in the United States.
Adding to San Diego's appeal as an investment market is its low vacancy and high barriers to entry. There is a vacancy rate of only 3.6% throughout San Diego county for multi-family and residential income property, according to CoStar. San Diego's population grew by nearly 1.1% county wide from 2014 to 2015. 
Areas We Serve
Downtown San Diego
Encinitas
Hillcrest
Kensington
La Jolla
North Park
Oceanside
Old Town
Pacific Beach
Point Loma
Rancho Bernardo
Mira Mesa
Solana Beach
University Heights